Shopping Cart
Your Cart is Empty
There was an error with PayPal
Click here to try again
Thank you for your business!
You should be receiving an order confirmation from Paypal shortly.
Exit Shopping Cart
It has been a while since I write on here, it was a busy summer and lots of positive things going on. For now I will share some key things that have happened:
* Celebrated my Birthday in the Bahamas with my boys
* Dr. Scheri in July, great appt.
* Got Bambino settled in his new apartment and school is on track
* Lots of activities, exercise and good friends all summer long
* Boobie left for Afghanistan September 7th
Now for exciting news to add, I have selected as one of five 2010/11 Pinktogether Survivor Ambassadors what a great honor. I will be able to continue my mission of spreading the good word, that there is life after BC. Those of you that read this blog, kindly go visit us at www.pinktogether.com and leave a virutal flower or comment. Blessed to continue to enjoy the beautiful things that the lord has given us.
Today has been a very tough day for me, we had to put our previous Evi to sleep...my little fat pug who has been in our lives for 14 years, the inevitable occurred and it broke my heart into little pieces. This morning we honored her in her transition to dogie heaven and Dave, Alley and I accompanied and carried her until she went to her rest. I miss her terribly I have done nothing but cry for her all day and wish she was here even if just sitting around doing nothing. There is no replacement for her, I will keep her in my heart and will see her in the other side. I love you my Evester, you my lady were the classiest, tenacious and most loving friend I have and will ever have.

So much has happened in the last couple of months, it would take many pages to write it all down but I will bullet some of them for quickness and ease:
December brought my hubby home after a very long year.Wonderful Holiday season with my complete family and close friends.January the great news that my first mammogram was cancer free, after all treatements and surgeries were completed.Continue to stay focused and positive.Found Pink-together and much to report later on about this find.Working hard and enjoying all my friendsTrip to Miami with Jord for Spring BreakTrip to Minnesota
Upcoming appointment at my Oncologist 3/25/10I will make sure to keep the blog updated from here on end, making sure everyone stays in touch and current on the happenings in my world

Life has been good since my last post, trying to continue with normalcy as much as I can. We made a trip back home to Miami at the beginning of November and it was incredible. We got the family together and enjoyed my close friends that I had not seen for a while. Got back home to a great Thanksgiving even though very intimate it was wonderful, so much to be thankful for. Had a great time with Bambino, mainly hanging out, dinners, movies and some video games lol! In only five days Dave will be back home, we have plans for a New York traditional Christmas trip and celebrating the holidays with the family. Can't wait to get my two boys here very shortly so we can catch up!
I wanted to wait a bit before I wrote to give a better update on things. I did go and see Dr. Lyman on October 6th and all my blood levels were back to normal and he was very positive of my visit. I was put on Tamoxifen and will be monitored between him and Dr. Scheri every3-4 months for the first two years. I have been doing very well with the pills and feel up and positive. I have fallen into my exercise routine and eating habits pretty well, so I am looking forward to the affirmative positive me that I have always been.
October is breast cancer awareness month and the wonderful Tax department groupt at work baked me a cake and poster, I was very surprised and happy. Sheri and Karen bought me a beautiful coffee mug, candy, socks and lots and lots of positive energy.....again I have to mention that through all of this some wonderful people have touched my life and they will always be in it.
For the last two weekends I have had Dawn, Tami and Pete helping in a very special project which is not ready for unveiling yet but I am psyched about it and can't wait to share. All else is going well, Dave is counting down the days for his return home,,,,,,,only 47 days left, Jord is doing well and happy and the rest of the family is moving along nicely.
I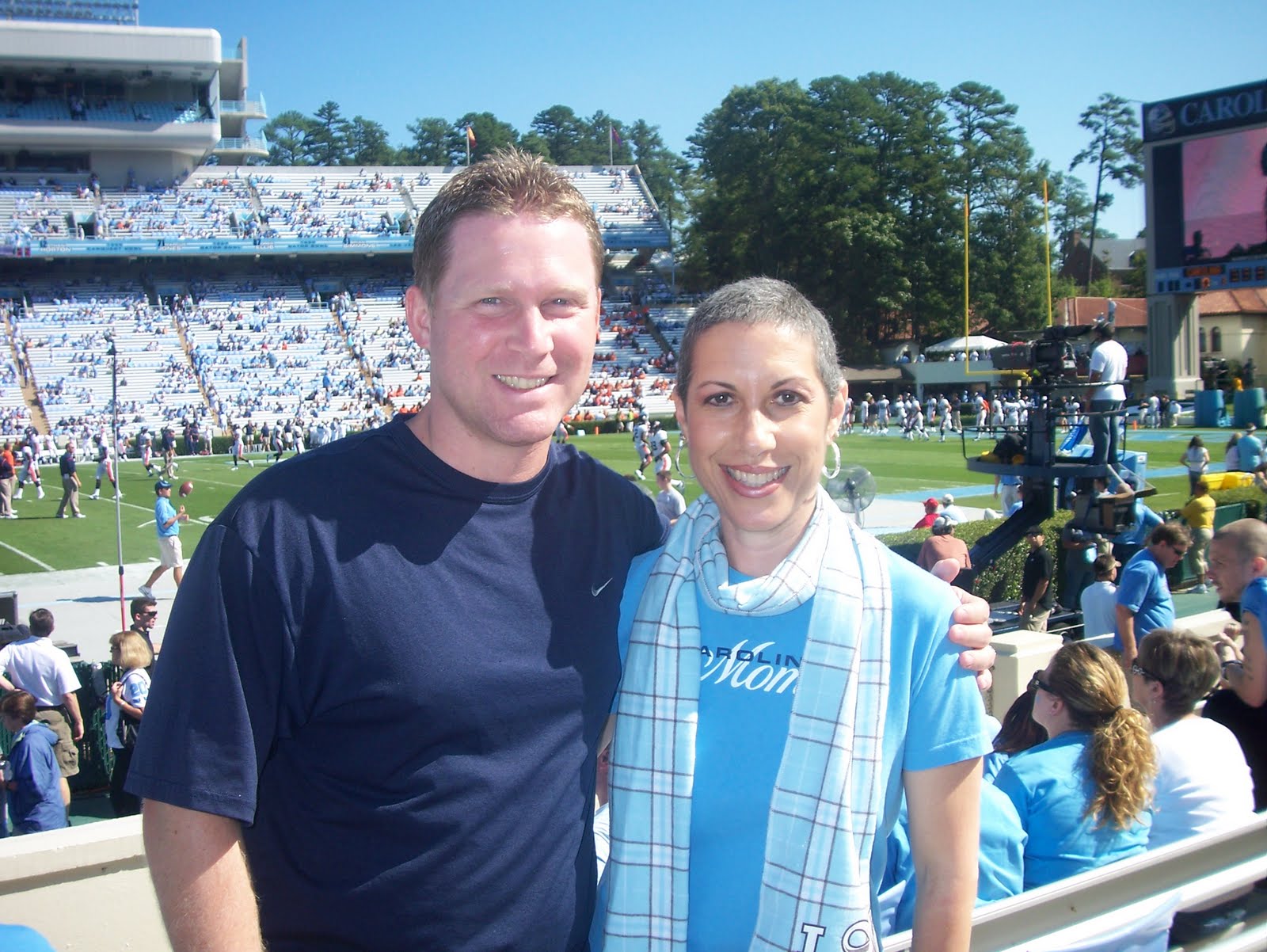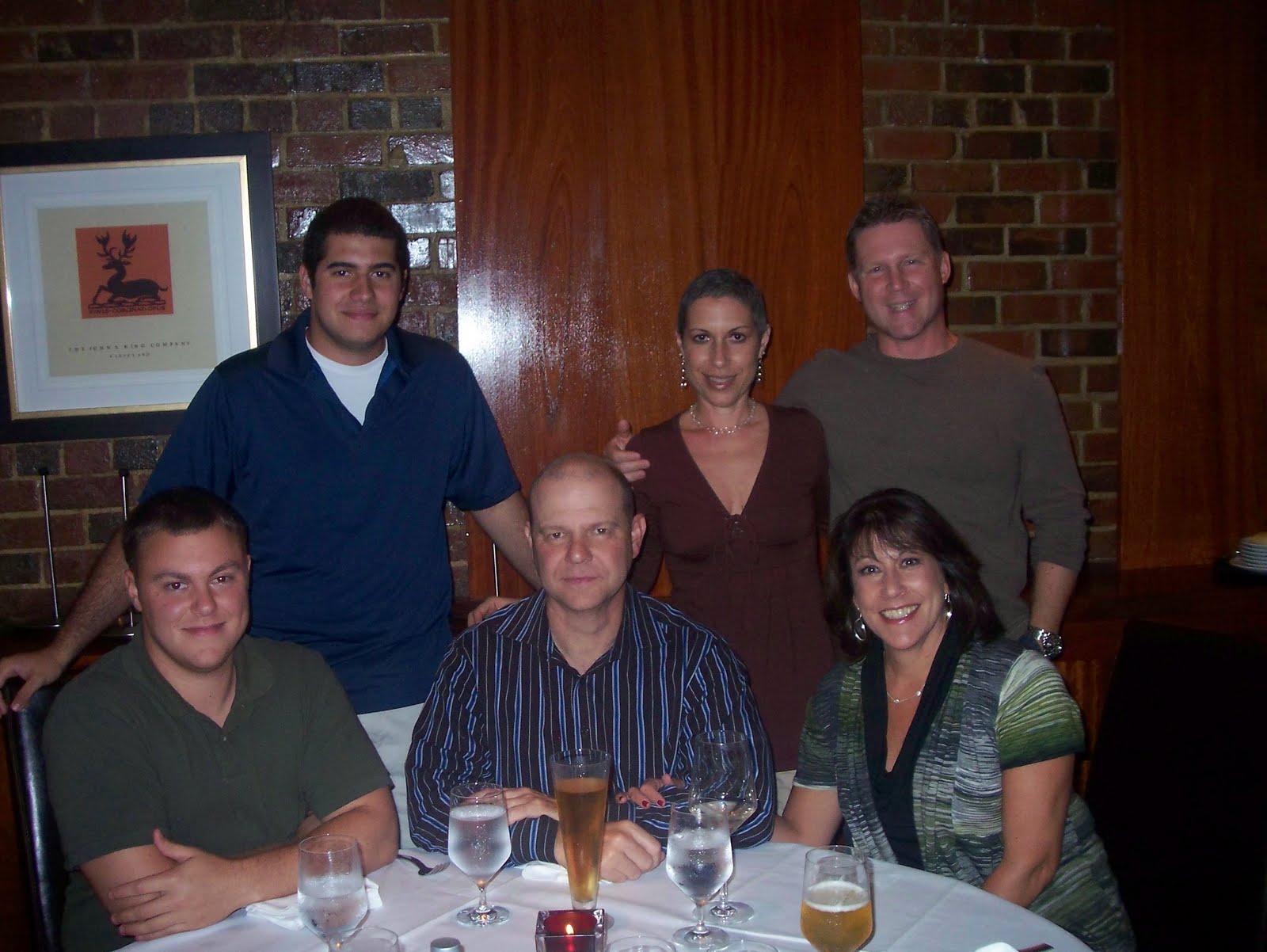 It's been a little over a week that I finished my radiation, another milestone that I reflect on often and am grateful that it is accomplished and that all went well. The 33 treatments seem to be forever, but with the right focus it all paned out for me Upon completion of the treatments I had some great things to look forward to, the hubby was coming home for a week and he is here now. We have had just great days together, Jord and I picked him up at the Airport and went to lunch, checked out some real estate and dropped the bambino back at School.
We enjoyed parents weekend at school this past weekend, which included, football game, dinners with great friends, finding the kids an apartment and some nice family time. There is really little room to ask for anything more perfect and I do not take any of it for granted. This Thursday, I will have my appointment with Dr. Lyman (Oncologist) so we shall see what the next step is and move on with it.
I look forward to that update shortly.
As a military wife there are certain expectations of us, one of those is that we have to be supporters of the husbands/wives deployments. Well I have only been a military wife for a short period of time (3 years married, 4 years since we got together) and have been through 4 deployments, my opinion it's alot to work with.
To be honest, the first three deployments were not as stressful as this one year (tour of duty) especially because of my medical condition. My husband for those of you that don't know me so well is in the Navy and has been stationed at Ft. Bragg for over ten years, if he wanted to stay in service and allow us to remain here in North Carolina he had to leave for a year. Being that I like living here and Jordan being a student at UNC it did not work for us to move from this area at this time, so that is how this tour of duty came to be.
Of course there are a number of different feelings for me when it comes to my husband being away from me during this time, it would be wonderful to have him here near to me but it has not worked out that way. I have been very blessed to have some very solid support here and even though he is not near, we end up being to talk daily and work things out as best as we can. His mid tour leave will be some time in July so that he will be able to come visit during that month and hopefully one more time before he comes home in December.
Upon getting the news of my breast cancer, I decided that a crucial part of my recovery would come from a solid, strong nutritional program. There had been some people in my past that had suffered from other types of cancer and had done very well under a "Macrobiotic" regimen, I myself had followed it for a year. So I fly with my son to Miami to meet with a licensed Macrobiotic and get a plan in motion. I will be honest it meant a total change of eating habits, especially since it was different in all aspects of anything that I was doing at the time.
Being a detailed and consistent person, I started the diet and life change with all the hope and positive outlook available and from December to March I followed it to perfection. Then came my first chemo treatment and during that first treatment I meet a very special lady "Heidi" ( you have done so much for me and answered so many questions...thank u again), who with a very delicate style made me realize that under this macrobiotics program and the fact that I had already lost so much weight due to the huge change of eating it would be very hard for me to handle the strong treatments. Od and Michael thank you for the nice dinner you brought me to the hospital, it was yummy!
I had gone from 115 pounds in December to 97 pounds by the end of my first treatement in March, I was too thin and was starting to lack energy. I remember talking with Cary one day after a meeting and his look of concern for my weight and his persistance for adequate nutrition made me realize that I needed to make a change and quickly. Well I have and with the weekly follow-up's from Heidi and my aunts great cooking, and of course my mom's continous suggestions on good things to eat, I am eating healthy, enjoying it and have gained over 10 pounds. Bascially you can eat some great tasty foods, and still have them provide nutritional value for you.........so next time you are sitting down to have a meal or a snack think "exactly what is this food doing for me!"
I still remember saying so many times, "well I really can't deal with losing large quantities of hair, so as soon as that start happening, I will get it all shaved off" today I should have one of you that I said this too beat me hard. One afternoon possibly a week and a half after my first chemo treatement I was sitting in my office and decided to touch my hair, and sure enough there it was that moment.........the hair was falling.
Looking at that day in retrospect I was terrified broke down and ran into Cary's office (for those of you who do not know who Cary is-he is not only my boss but a very special person in my life who has been one of my biggest cheerleaders through it all), that day arrived sooner than I had expected. I was so upset I ran to Teri and Kelly who extended their arms and hugged me with the same look of fear that I was displaying, of course I went home.
My poor aunt and mom cried with me for what seemed to be hours and my distraught mother promised to buy me all the wigs, headpieces, bandanas, scarfs, hats that I wanted- I love u mom for you show me daily how unconditional and simple your love is for me. We did what we had to do we mourned together, prayed and realized that loosing my hair was in fact part of the process of healing and it has been easier and easier each day. Thank you Susie for that long Saturday morning and my first short hair cut!
Incredibly enough I have not lost all of my hair as of today, of course more than 75% is gone but I am strong, feeling great and wearing some great hair accessories. As my cousin and brother Jose reminded me yesterday when he saw me with one of my pieces, "cuz you look pretty darn hot with that long haired wig lol", I love u Hoach!
With Dave leaving for a year prior to Christmas, I was determined to have an early celebration for him regardless of the news about my health and that we did. We celebrated intimately and with hope that the upcoming Doctor appointments would share more light as to my condition
When I look back now, I felt so bad that once Dave left Jordan and I would be alone for the rest of the holiday season and this being his visit back home from College I wanted to make it as best as I could for him. My great son so positive and reassuring at all times his support so endearing to me it still brings tears to my eyes, his powerful Christmas card to me and his total commitment to my care was such a motivating tool for me...I still keep his card in my dresser as a reminder of his positive outlook. The time we spent during his stay for one month during his winter break brought us closer than ever, creating a bond that has been my focus during it all.
Thank you Gordo "porque tu amor y tus lagrimas me han dejado una marca muy especial en mi pequeno corazon" . Te quiero hijo mio con todo mi corazon!
/